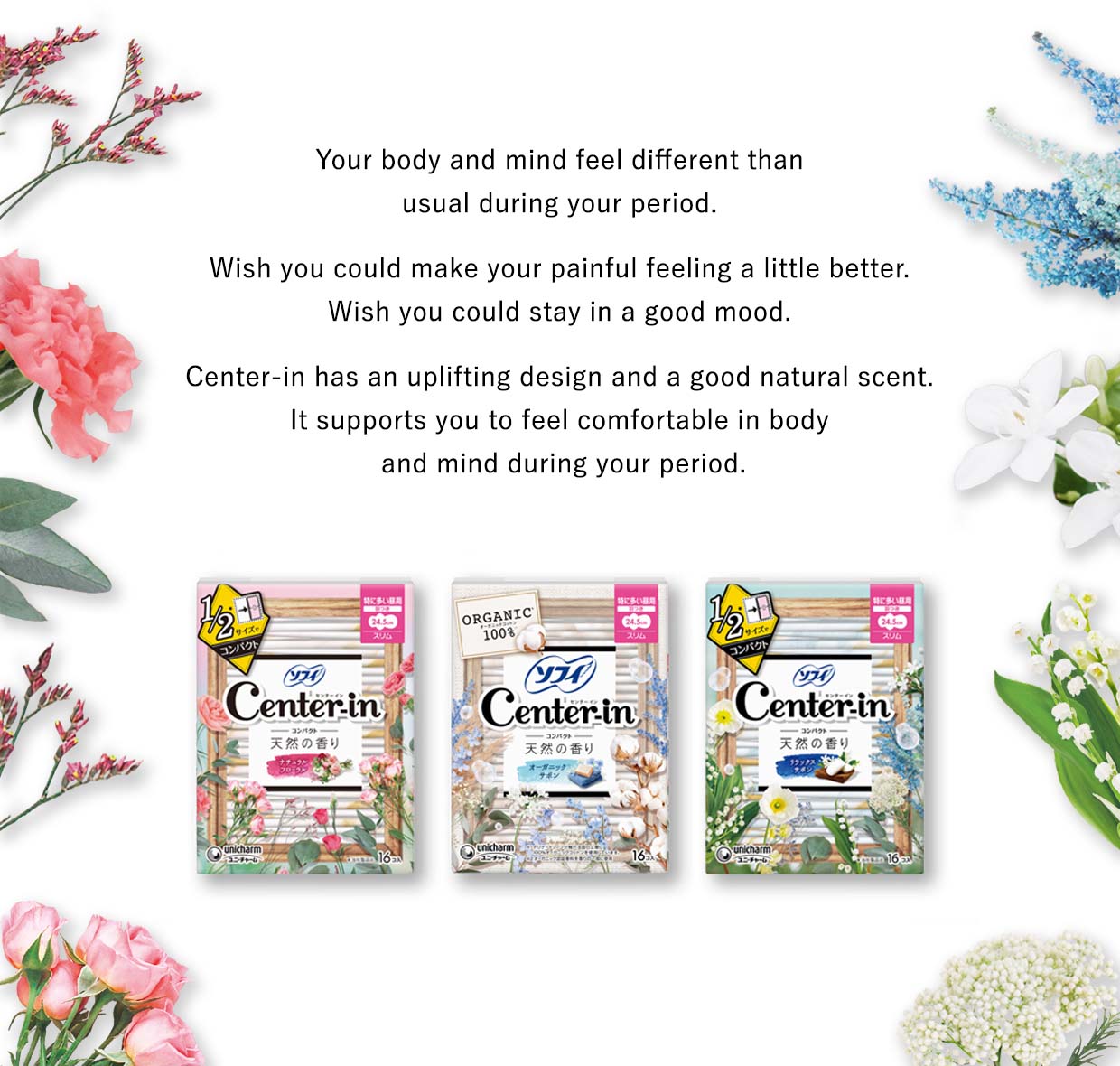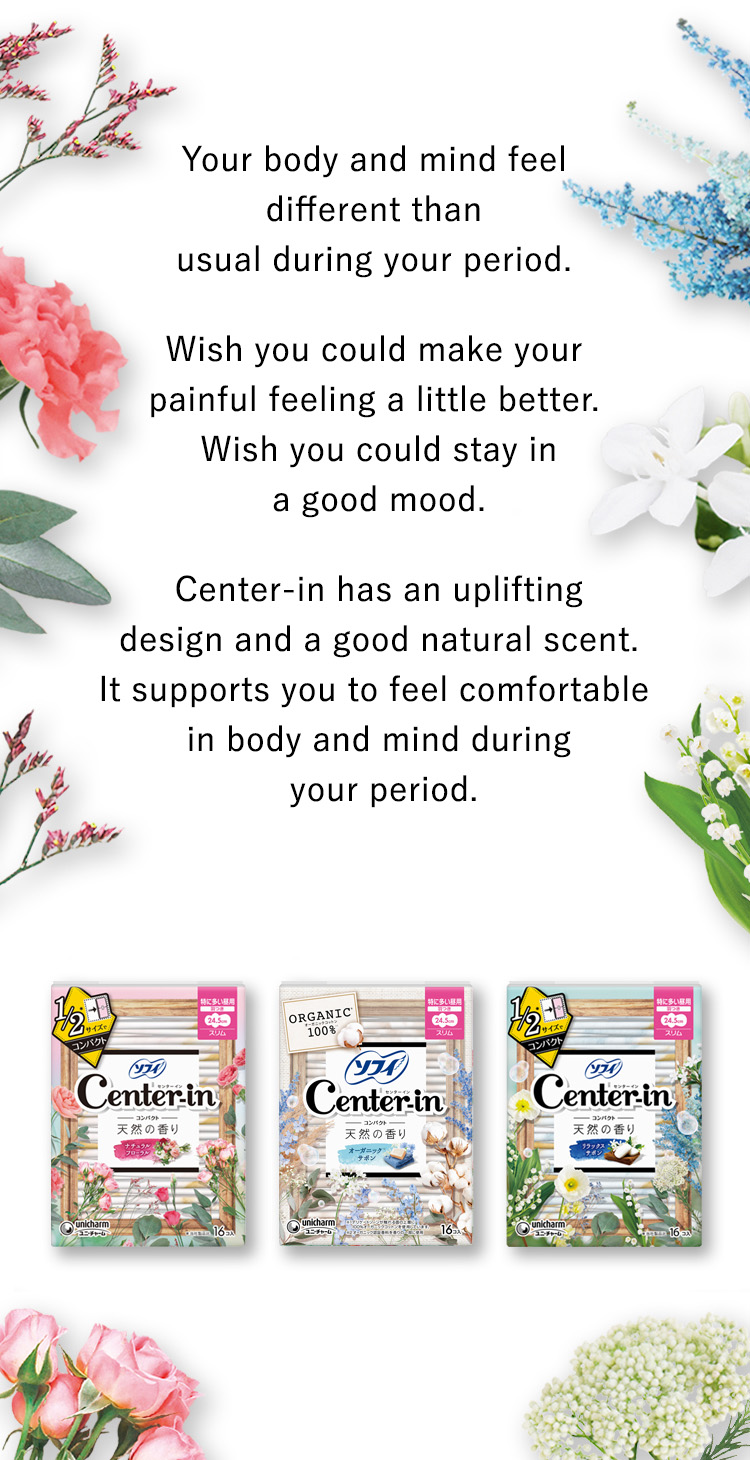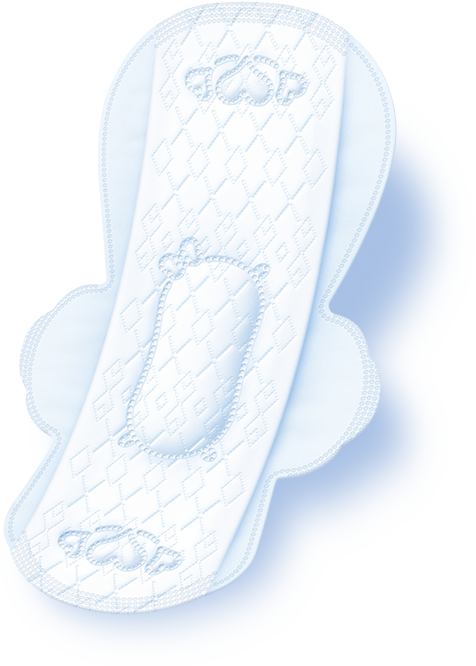 The natural ingredien! Good natural scent.
The natural geranium ingredient in the incense gently and softly reduces unpleasant odors during menstruation.
You can select from three fragrances: Natural Floral, Relaxing Savon, or Organic Savon.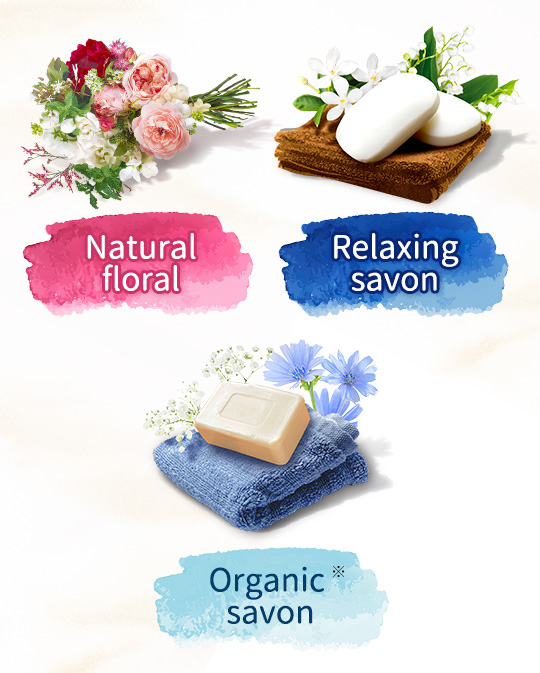 * Certified organic fragrances are used as part of the fragrance.
1/2*1 the size of regular slim pads, making it easy to carry around.
Fits well in your palm, pouch, or pocket, so they're convenient to take with you!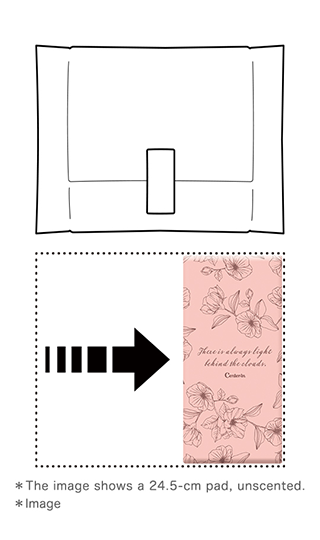 Compared to a regular slim pad, it's 1/2*1 the compact size!
*1 Compared with other products of our company
The design does not look like a sanitary product, and is easy to carry around.
They're so cute that they'll blend in with your other belongings, and they don't look like menstrual products so it easy to take them out with you!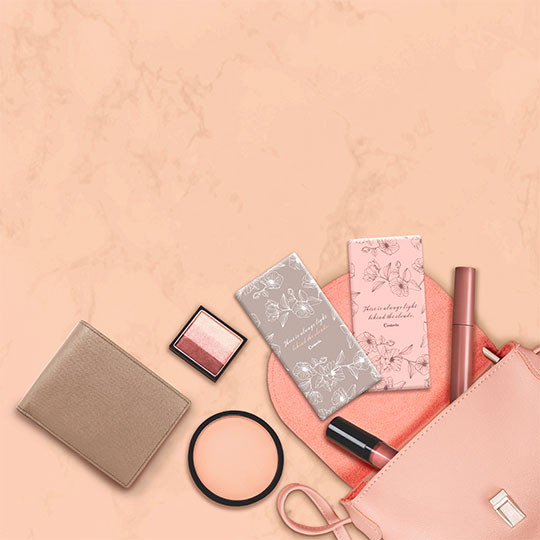 Even if you put them in a mini bag, the fashionable designs will improve your mood!
Center with full absorption!
The center of the pad is fluffed up to fit to your body and absorb.
Organic cotton type with several choices*2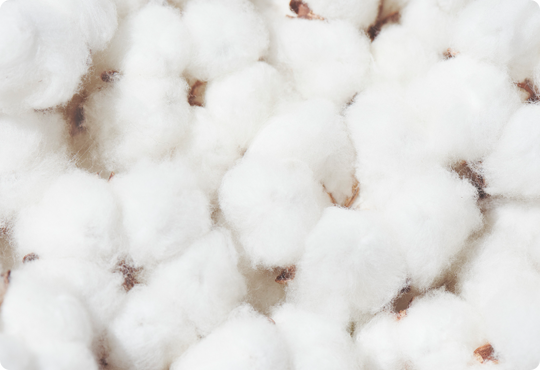 *2 100% organic cotton is used for the upper layer on the surface that touches the intimate area.

The stylish design makes me feel happy to use every time.
It's very thin but I feel comfortable to wear without worrying about leaks.

I tend to feel down during my period but this stylish pad makes me feel better when looking at it.
Also, I almost forgot I was wearing it without stuffiness at all.
( 30-year-old company employee )

The good design lifted my spirits when I felt blue.
They're slim, but they absorb a lot without leaking, and I liked that they didn't irritate my skin.
( 37-year-old housewife )

You can't tell they're sanitary products at a glance, so it's easy to carry around.
They didn't cause any rashes and stayed dry for hours, so it was comfortable for me to use.
( 23-year-old company employee )

I liked that the designs are cute and don't look like pads. Also, they absorbed a lot even though they're so thin, so I wasn't worried about leaks.
( 32-year-old company employee )

The designs are sophisticated and cute. They absorb a lot, so I was glad that I feel safe even on heavy flow days.
( 35-year-old company employee )

They're easy to carry around since they look so cute, and it's not embarrassing even if they're seen from inside my bag because they don't look like menstrual pads. They're also comfortable and soft.
( 33-year-old housewife )

They're soft and feel fresh even after hours, so I didn't have to worry about feeling stuffy. I also liked that they're compact and slim.
( 38-year-old company employee )